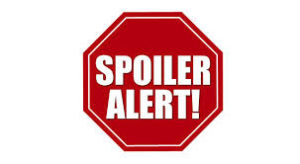 There is, rumor has it, a trailer of some sort for the new Star Wars movie. I've worked hard to not see it. I've seen a couple of still images floating around on twitter and facebook, but I'm trying to keep it as much out of my head as I can.
See, back when the prequels were coming out, I wanted to learn everything I could about the movies. I read stuff, I watched trailers, I visited very early fan sites that speculated as to what we would see. By the time I got to the movie theater, particularly for the second and third films, I had little to discover. I was disappointed, and not just because the movies weren't that great (at least, I don't think that was the only factor. Every time I try to give Lucas a little credit for the prequels, I see Ewan MacGregor saying "A toxic dart," and any attempt at kindness goes away.)
It was a some point in the Lord of the Rings movies that I started ignoring previews. I was militant about it for a while there (I probably owe an apology to whoever was at the theater with me in those days)… covering my ears, closing my eyes, making a big show of it. I'm less militant these days, but I still try to avoid details as much as possible.
It works, too. I enjoy movies far more when the details are a surprise to me. It's good. I know the filmmakers need to get people whipped into a marketing frenzy in order to ensure that they sell enough tickets to justify the investment the studio made in their film, but I think it's okay that I want to be held out of the fray. I hope it's okay, anyway.
There's a complicating factor these days, though. I've added children into the mix. My son is desperate for Star Wars VII details, even though we're not sure he'll be old enough to go see it when it releases. He's so excited about it. He loves the original movies. He loves Jar Jar Binks (I'm not sure how that's possible, but it's true). He hasn't seen the second or third prequels yet, but he'll love them, too, when we let him.
I want him to be able to enjoy things. But I also want him to be free to learn those lessons on his own. Just… not yet. So, we'll be a spoiler-free zone for a while longer.