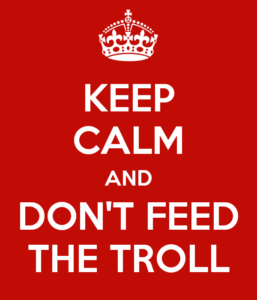 I am a wimp. A push-over. I have been called "the Pillsbury Dough Boy" by an employer, and it wasn't a comment on my weight. At least, he said it wasn't.
I think that probably informs my approach to antagonism. My preference is to positively state what i believe to be true, engage honest dialogue seeking interaction, and peace out as soon as behavior verges on Troll-like.
Troll

n.

One who posts a deliberately provocative message to a newsgroup or message board with the intention of causing maximum disruption and argument.

 – urbandictionary.com
There are countless examples of trolling on the internet. Sometimes it happens among friends. Sometimes it happens among absolute strangers. Sometimes it happens in your local homeschool group.
It's not new. If you went to college, there was always that one guy who tried to ask as many provocative questions as he possibly could to see if he could push the professors over the edge. (Wait… I may have done that a bit.) Usually, you'll find some people who are Troll-wardly inclined at work or church or … somewhere in your life.
It seems worse on the internet. Some people attribute that to anonymity, but I think it's more than that… or different than that. It's the lack of having to deal with the immediate consequences that causes people to be bigger jerks on the internet than they are in real life.
I think, if you're going to be online, you're going to have to deal with trolls on the internet. I think my approach, while verging on wimpy, is worth considering.
Don't feed the trolls. They only get bigger when you feed them. Trolls are like a fire. Rob it of air, and it just snuffs out.
Don't feed the trolls.